Coach/Player Relationship
Posted on in UConn Basketball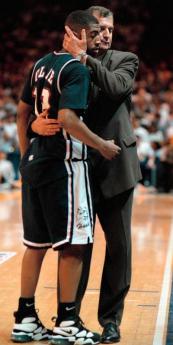 It was far away and a long time ago. It was the last time University of Connecticut Head coach Jim Calhoun and one of his star players, Kevin Ollie, were headed to the Final Four only to be stopped in an epic battle and loss to the UCLA Bruins in the Great Eight in Oakland California. I made the photograph above in the final seconds of that game.
A lot has changed since then. Coach Calhoun has now shown Connecticut, and the world, his vision on building a championship team and a championship program. Ollie has built many memories in his pro career and now is back with UConn as an assistant coach. I've been lucky enough to be there for both of Calhoun's NCAA title wins, and a few more Final Four games. However, this photo was always one of my favorites because it embodied the relationship Coach Calhoun has with his team. I was interested in what he and Ollie thought about that game and what memories it would bring back. So I asked them. Below is their response.
Coach Jim Calhoun: "Looking at this picture, I remember our great run through the tournament. I was feeling a combination of things, from how Kevin Ollie had been a loyal soldier, great player, and terrific kid for the past four years, along with the realization that there would be no Final Four that year for us, but more importantly it meant the end of Kevin's career. I was, in that moment, saying goodbye to a season and to Kevin, who was a huge part of our program. He helped set the mold for what UConn kids are all about, and now, the best thing is that he's back with us."
Assistant Coach Kevin Ollie: "This photo brings back so many memories. It captures the unrehearsed raw emotion that is shared between a coach and a player. At UConn, Coach Calhoun was our rock. He was also our friend, our mentor and even a father figure to me. Never once did he let my weaknesses get in the way of my strengths. I have learned many great things from Coach. But one attribute of his that stands out for me is when he is confronted with a tough situation, instead of backing down, he is always constantly moving forward. He literally taught me how to be fearless on the court. How to have an unwavering heart and have the courage to never fear failure. Still to this day I can remember that embrace. I can feel the sweat on his cheek when he pulled me close to his face. I didn't know what Coach Calhoun was going to say to me before I reached the sidelines but sometimes actions speaks louder than words. From that moment I knew our relationship was deeper than a basketball game or a Final Four appearance. The love we shared then and now was built on trust and will always be unconditional. No matter what the score said at the end of the game in the Oakland Coliseum, Coach made me feel like the most special person in the world."
This blog was originally published on "Eye Contact," the official blog of the photo department of the Hartford Courant.